Cocktails & Casino$
2000 marked Spud's 10 year anniversary since the first and only time he had been to the bright light city of Las Vegas, Nevada. It's not that Spud didn't like Vegas first time around, it was that he wasn't allowed to return to the city after his last exploits at the card tables back in 1990.
This time back, he thought he'd try some of the other games of chance. First up was roulette, where he proceeded to gamble a couple of grand away in what seemed like a matter of minutes. It was time to move on to something a little less volatile.
After trying his hand at Baccarat and being even less successful, the potato found himself down to his last 2 dollars - barely enough to buy a shrimp cocktail, and a few dollars shy from being able to afford the all-you-can-eat buffet at Circus Circus. Dreading the thought of missing out on that endless supply of prime rib, Spud had to find something he could win at. With only 2 bucks to gamble, the tuber hit the nickel slot machines.
Soon after sitting at one of the one-armed bandits the machine began to pay off. A couple coins here and there; not enough to pay for the buffet, but enough to keep him in the game. As the tater continued to feed the machine with money, a lovely cocktail waitress came around and asked him if he wanted a drink. Unfortunately, Spud had no money to spare, so he had to decline. Spud smiled immensely as the waitress leaned in and told him that drinks were free for players. With that, the tuber ordered up a shot of Jack Daniels.
Hour after hour passed by and Spud was still struggling to reach the $4 plateau for the buffet. As long as he sat at the slot machine though, he was continually served drinks. The alcohol went right to his head and before long, the potato was plastered out of his skull.
After unsuccessfully trying to pick up the waitress, the carbohydrate decided to forego the buffet and try to find himself a sweet young thing. Within a short time, a dazzling young yam (somewhat resembling Dame Edna) named Beatrice Twice-Baked found Spud and the two grabbed a cab to one of the Strip's less-posh hotels - the kind that are charged by the hour.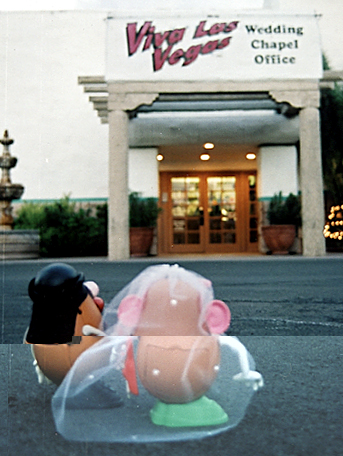 The next morning Spud was still lit like a roman candle and barely coherent. Beatrice's infatuation with the inebriated side dish seemed to be bordering on obsession. After jumping in the shower, the yam reappeared in what looked to be a wedding gown. She helped the barely conscious Spud into a tuxedo and whisked him down the boulevard to the Viva Las Vegas Wedding Chapel.
Spud was on his way to the altar!