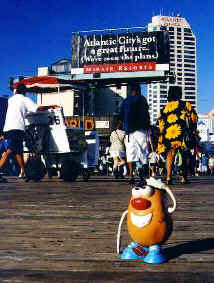 Atlantic City
Spud made his first ever trip to Atlantic City in August of 2000. Eager to explore it's infamous boardwalk and drive down the streets he grew up with while playing Monopoly.
Today, it seems that the only one who has a monopoly in town is Donald Trump who owns a number of hotels and casinos that line the boardwalk. Ready to take a few bucks off Trumps' hands, he made his way to the nearest card table. Having learned from his last unpleasant experience gambling, Spud managed to take the hapless dealer for a couple of grand before the night was over. It may be time for Trump to beef up his security...
But casino hopping was not the real reason why Spud was in town. The tuber was in the Garden State for a big boxing match against welterweight champion Ervine the Eggplant. As New Jersey produces 2/3 of the world's eggplants, he was also a local favourite.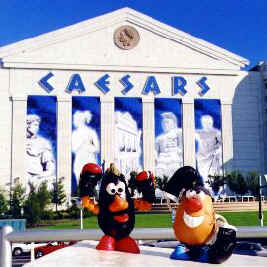 The event would be taking place at Caesar's Palace and was to be broadcast live via pay per view on the Food Channel. Needless to say, an event of this magnitude drew media coverage from across the globe.
The week's festivities began with a promotional press conference and photo shoot outside of the hotel. Ervine was cocky and confident in front of the camera and took every opportunity to insult and belittle Spud. Always the perfect potato, Spud paid no attention and let the eggplant run it's mouth
Ervine's tactics turned ugly though as Spud soon found out...
CLICK HERE for the
BATTLE OF THE SIDE DISHES