WYOMING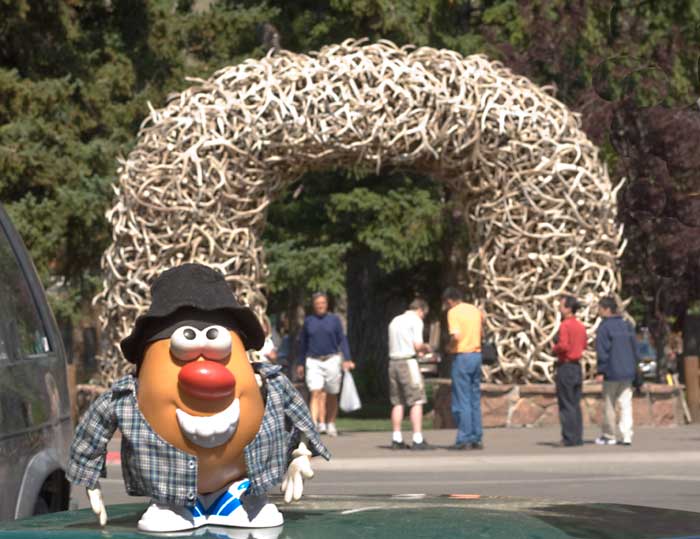 Spud was mulling through his travel brochures one day and realized that one state he had not properly visited was the least populated in the USA: Wyoming. He had been to Devil's Tower once before, but that's a whole other story! It was time to change that so the tater packed up his Tuberossa and headed North.
First stop was the small mountain hamlet of Jackson Hole. Usually places that are referred to as a 'hole' are not very pleasant, but this Wyoming town was different. It had to be cool after all, because its most famous resident is Indiana Jones (aka Harrison Ford)
Jackson Hole is located on the fringes of the Tetons; one of the most spectacular mountain ranges in North America. The town welcomes visitors through grand archways made of Elk Antlers. The Chamber of Commerce however is quick to note that no elks were harmed in the making of those arches.
As appealing as strolling the streets of Jackson Hole was, Wyoming's main draw is further North in the state, located inside the boundaries of the US' first national park: Yellowstone.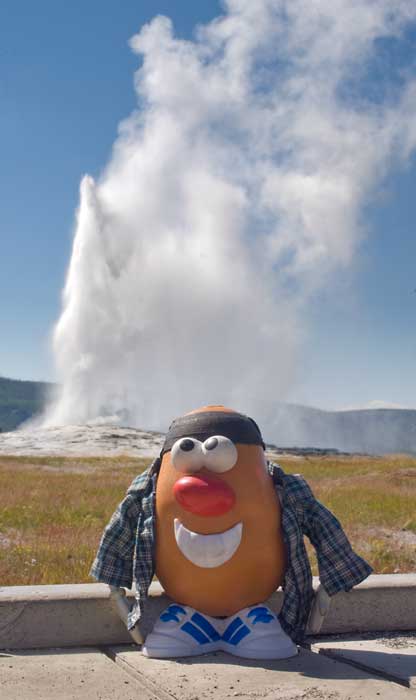 Yellowstone is home to the geyser with Asperger Syndrome known as 'Old Faithful'; a watery spout that blows his top every 70 or so minutes. No matter how nice you are to it, this guy is guaranteed to lose his cool at some point and if you get to close, he's likely to scald you with its boiling hot geothermal water. Needless to say, potatoes and boiling hot water don't mix, so Spud didn't visit for long.
The tater learned from the Park Rangers that the massive 3,468 sq mile (8,983 km²) park is actually the caldera of a large Volcano, which if it were to erupt, would likely end our time here in North America. Noting that the end is near, Spud wasted no time in driving around the park trying to take in as many sights as he could. Fortunately the world didn't end before completing his visit.
---
Show me more travels in the USA!