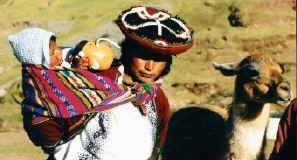 Unbeknownst to Spud, it turns out that Peru is world renowned for its potatoes. History writes that the first potato was cultivated in Peru and that Sir Walter Raleigh liberated a few to introduce into England. Needless to say, Spud was revered as a God by the local Peruvian people and was frequently chased down by obsessive followers! One instance found Spud manhandled by a Quechua papoose that was eager to take our favourite tuber's nose as a souvenir. Fortunately he managed to escape before losing all of his parts (not to mention his faculties!)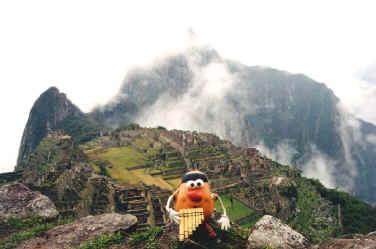 Seeking refuge from the mobs in Cusco, Spud fled into the Sacred Valley along the Inca Trail to find solace in the lost city of Machu Picchu. After 4 days on the trail, the potato emerged from the Sun Gate revealing the crown jewel of the Incan dynasty shrouded in a thick, haunting blanket of fog. It was an amazing site to behold!
The city lay atop a pedestal of rock surrounded by an adoring audience of massive peaks. It was here that the Inca would harness the energy of the sun. Eager to draw from this spiritual mecca, Spud meditated while breathing the notes of an ancient Incan tribal song into a traditional pan flute. At last, he had found peace.
It was to be short lived though, as bus after bus laboured up the switchbacked road from the valley floor to the summit, hauling hordes of camera toting tourists. Soon the spiritual silence of Machu Picchu was shattered by the sounds of shutters snapping and tour guides gaggling. Realizing he would never find privacy in a potato crazy country as Peru, he packed up his rucksack and began his long journey back home.