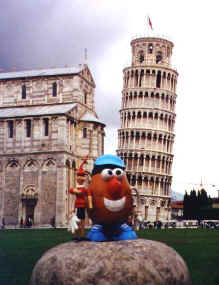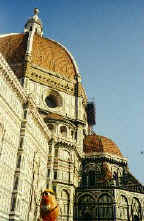 Pisa & Florence
Spud visited the 'ole boot' of Italy for the first time in October of 1997 in search of the perfect pasta. His trek took him to two of Italy's most famed cities - Pisa and Florence.
In Pisa he found that the tortellini was nothing short of exquisite, the penne sumptuous and the lasagne; simply a culinary pleasure for his palate. It was a good thing that the cooks were so good in Pisa, because the architects left much to be desired.
Florence made up for Pisa's shortcomings in this department. A venture to the domed cathedral of Florence kept Spud's interest away from pasta for an entire day viewing the incredible artwork painted on the ceiling of the church.
The incredible art of Florence was everywhere to be had. Architecture, paintings and statues dotted the city providing many sites for the intrepid potato to take in. A particular highlight for Spud was seeing Michelangelo's David.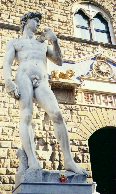 Spud anguished for days deciding whether or not to post this picture of the nude artwork. Fearing that he may receive backlash from web censors, he figured he may have to list this as an ADULT SITE on the search engines.
In the end Spud decided to post the shot remembering that almost all the pictures of himself on this site are nude (except for the shoes!).
Spud wouldn't be able to leave Florence without finding the ultimate white linguine clam sauce. After visiting many of the locals and sampling their wares, he finally found a dish that left him drooling for more. A large family living in a house on Ponte Veccio (a bridge spanning one of Florence's canals) was where the discovery was made.
Spud wasn't content to leave Italy without securing the 'secret' to that incredible sauce. After coming up empty handed upon asking for the recipe, he made plans to sneak back later that evening to copy it. Night fell and he climbed through an open window and into the kitchen where he proceeded to transcribe the vital ingredients. Accidentally knocking over a bottle of parmesan, he awoke the family who chased the potato out the window plummeting into the river. His buoyant plastic body floated right to the surface and out of the city; secure with the golden recipe.
On to the adventure in Venice!