Spud's Story - Part II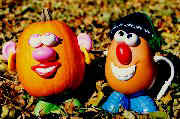 In October of 1995, Spud met a gourd with whom he became immediately infatuated. Her bright colouring illuminated Spud's life and the sparkle in her plastic eyes was hypnotic. The relationship was not to be though, as she turned out to be a little mushy shortly after the beginning of November. The snows of Winter arrived and Spud became depressed. He needed once again to travel!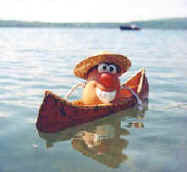 December found Spud venturing eastward to Montreal, Quebec where he practiced his Francais with the locals and learned of the great explorers of the Canadian Shield.
Eager to follow the trail of the famed French explorer Jacques Cartier, Spud decided to venture to Northern Ontario with his birch-bark canoe in the summer of 1996. Finding nothing but black flies and tourists, he decided to cut the trip a little shorter than originally planned.
Once again Spud took his chance at love and found himself head over heels for a Polynesian that he had met while getting groceries at the local store. She was tough on the outside, but Spud knew she was a softie underneath. Unfortunately though, she turned out to be a little too soft. In fact, in a couple of weeks she was a pile of gooey slosh. Spud once again spent Christmas alone.

March of 1997 found Spud once again en-route to Arizona to enjoy a winter break in the sun. While there he also managed to cross the border into Nogales, Mexico to pick up a blanket and a cheap bottle of Mescal. Needless to say, he was relieved that there were no problems on this trip.
Encouraged by the pleasant outing to the United States, Spud quickly gassed the car up for his next adventure: the BIG APPLE! Unfortunately Spud didn't see a lot of sites as he wound up spending all of his money on the peep shows in Times Square. In fact, he wound up having to sleep that night on a bench at the New York Port Authority.
In desperate need of cash, Spud filed a lawsuit against Don Rickles for misrepresentation of character after his sarcastic portrayal of Mr. Potato Head in the film Toy Story. A short time after the filing, a cheque from an undisclosed source showed up at the door. Spud took the hush money and put it towards a July trip to the Home of the Blues, Chicago, Illinois.
Spud wasn't home more than two weeks when he got the urge again and packed his body for a trip to the Gaspe' Peninsula, New Brunswick and over to Maine in the U.S.

By the time Spud finally made it home to Toronto, he was exhausted from all of the traveling he had undergone in the past few months and was in dire need of a rest. The rest was short lived though, as he was invited to tour around France and Italy in September for a few months.