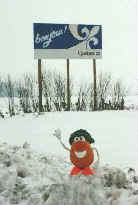 Quebec
Monsieur Pomme de Terre first arrived in Quebec in December of 1995. After having spent about 3 weeks studying French by watching the Francais broadcasts of Hockey Night in Canada and reruns of the Beachcombers on CBC, he felt he was ready to communicate effectively. Failing miserably, he managed to get by with his good looks and his snazzy looking touque!
It was on that trip that Spud visited le grand ville du Montreal.
Of course, when in Montreal, he had to pay homage to the sporting facilities that are revered in Canadian culture.
First stop was Le stade Olympique or 'the BIG O' as it is called (no doubt by the sexually repressed). Spud was too cheap to fork out the cash to take the elevator ride up the tower, so he admired the facility butt-deep in snow.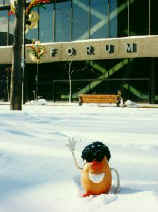 The next stop was the now former home of the Montreal Canadiens; the Forum.
Steeped in history, the Forum has seen many a Stanley Cup paraded around on it's ice surface. Now that the Canadiens have moved to another facility, who knows what fate will befall the historic building?
Hoping to see one of the great ones emerge from the building while he was there, Spud waited patiently in the park across the street in sub zero temperatures. Two weeks later he was found there frozen solid and his nose succumbed to frostbite. Fortunately he had a spare nose on him and after a few minutes in the Microwave on DEFROST, he was on his way again.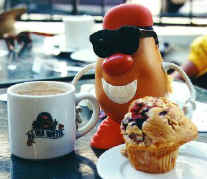 Spud returned to Quebec twice in 1997 to much more hospitable weather.
In June of that year, he journeyed to Montreal to take in the Grand Prix du Canada. With Jacques Villeneuve out of contention on the second lap, Spud enjoyed the rest of his trip sipping chocolate chaud at the local Al Van Houtte.
August of 1997 saw Spud on a scenic trip around the Gaspe' Peninsula to visit the natural wonder Perce' Rock.
Spud had purchased a French/English translation book and was getting quite good at communicating. The local villagers greeted him with a warm reception and told him that he was welcome in their homes. The reception quickly turned ugly though when Spud realized they were actually talking about making him into home fries!