Spud's Story - Part III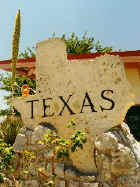 1997 proved to be an extremely busy year for Spud's passport and this trend appeared to be continuing into the new year with a trip down to Florida in early January. His ever expanding profile has grown immensely since launching this web site in September of 1997 and he has been internationally recognized. This increase in activity in the public eye led to his inking of a deal with an American fast food franchise where he was spokesman for their 'new and improved' french fries. Spud honestly thinks they still taste like crap, but the money was too good to refuse. In fact, the gig turned out to be a cash cow and Spud's milked it for all its worth!
In early February, the intrepid Potato blazed a trail to his travel agent and quickly booked a flight back to the Lone Star state so that he could spend a bit more time seeing the sites. A trip to the Houston area wouldn't be complete without an excursion to NASA to try and become the first 'orb in orbit'.
Once again, Spud found himself close to the border of Mexico; well 8 hours close actually… The draw of having a guacamole and beef burro was too enticing and he spent a day traveling to the border town Matamoros to satisfy his hunger. Guacamole doesn't go well with Potatoes he was soon to realize, and his trip back involved stopping at just over 30 gas station toilets.
Early March of 1998 had Spud touring Alberta & British Columbia. He managed to barely escape with his life after being attacked by carnivorous totem poles! He sought refuge in the Hollywood Hills of southern California spending a bit of time scouring for celebrities!
In April of 1998, Spud entered a contest being run by a local Toronto radio station. His entry was lucky enough to be picked as the grand prize winner and it netted him his first ever trip to the Caribbean island of St. Maarten!

May found Spud traveling back to the Lone Star state, this time to disprove the single bullet theory by investigating the grassy knoll in Dallas. It was the end of the month that saw events turn horribly wrong! While enroute to the Orient for the first time, Spud's plane was hijacked by a radical band of terrorists. They took the plane beneath radar tracking systems and landed in Singapore where they held the touring tater hostage for almost two months! After suffering heinous torture and attempts at cannibalism, Spud was able to escape and flee to the safety of Indonesia.
Spud returned to North America in October eager to regain his wits after such a harrowing ordeal.
His stay at home was to be a short one, as he was insensibly drawn to visit the immense granite rock known as Stone Mountain in Georgia.
The sheer enjoyment he realized from exploring the stone couldn't be topped, but he tried by strapping himself into a race car a few days later at the world's fastest super speedway - Talladega, Alabama for a little bit of NASCAR racin'. From there it was back to London, England for a quick stop to address the National Potato Convention on the nutritional benefits of the farinaceous tuber.
After returning home to Toronto later in October, he acted on fulfilling a lifelong dream; to purchase his very own velour heart-shaped bed. What better place to go to find one then the honeymoon capital of the world - Niagara Falls! Spud got more than he bargained for at the Falls and the bed wasn't one of them!
Our traveling potato closed out a very busy month by travelling back to the Big Apple for a hockey game at Madison Square Gardens. The December holiday season found Spud relaxing his weary appendages at home in Toronto. Frequent Flyer miles abounding - he longed for a new set of luggage under the Xmas tree. It was not to be this year; Spud would have to continue packing his hollow body for all of his future travels!
What he did get though, was a new computer to replace his 16K Atari 400 that he had been banging on for the last 10 years! He spent the entire holiday season rebuilding his website for his esteemed following!
January would find the big burger franchise knocking at Spud's door again enticing him to do a follow up to the prior year's ad campaign. Always willing to whore himself for a few bucks, the tuber shot a few more commercials and modeled for some kid-meal toys. He used the money to whisk away from the huge snow drifts of Ontario to the sunnier climes of Southern California and the bordertown of Tijuana!
Formerly president of the Efrem Zimbalist Jr. fan club, Spud was obsessed with the FBI and the charismatic special agent that was the star of the 70's TV show. So in awe of this legendary overactor, Spud had always dreamed of walking in Zimbalist's footsteps down the corridors of the FBI Headquarters in Washington DC. He seized the opportunity in February and attempted to take the demanding training which might lead to his joining the elite investigative force. It was not to be though, and Spud returned home dejected.
His sorrow was short lived, as he received an invite to come and celebrate the anniversary of the fall of the Alamo in San Antonio. Bags were packed and the potato jumped the next plane back to Texas. His visit back to the Lone Star State was filled with one of the most riveting sites he had ever witnessed! As much as he hated the thought of leaving the amazing hamlet of Seguin, Texas, his passport was about to expire and he had to head back to Canada.
It was June of 1999 when Spud returned to the Valley of the Sun in Arizona - this time intent on buying a parcel of land in his favorite state! Things did not go exactly as planned though and Spud wound up getting taken for almost 30 grand by some prick in the desert! I'll warn you, the Sonoran Desert is swarming with them! Hold onto your wallet if you ever go!