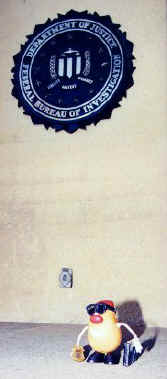 Washington, D.C.
In late February of 1999, Spud was enrolled in the FBI's rigorous training program for special agents. This meant that the tuber had to travel to the bureau's headquarters in Washington where he went through an intensive battery of tests pushing him to his mental and physical limits. Unfortunately, the plastic orb was unable to pass the blood pressure test (the physician was unable to locate any internal organs) and thus was denied special agent status.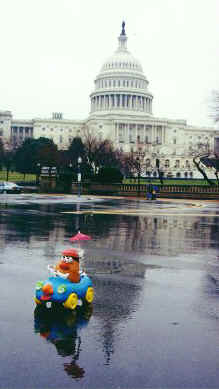 Having a few days to kill, he hopped into his Tuberossa and visited some of Washington's many famous landmarks: The Washington Monument, Lincoln Memorial, Smithsonian, Capitol building...
One could not visit Washington without making a stop at the White House to see Wild Bill Clinton. Spud was no exception. In fact, the potato had heard that the President had a problem with his zipper (he couldn't keep it closed), that he brought a new one all the way from Canada to give to the pantless politician. Unfortunately, while trying to access the White House grounds, the polymer yam was jumped by several secret service men who didn't take to kindly to his endearing offering. After taking a severe scalloping, Spud hightailed it out of the US capital.