Spud gets recruited by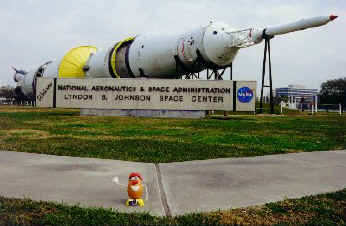 It was Spud's life long dream to become the first hollow-bodied tuber in space. He ventured to the Johnson Space Center to make it a reality.
Spud was given a grand tour of NASA's top secret facility; he went behind the scenes at Mission Control and while there, aided the Shuttle Flight Director who was struggling with a problem with the low vibration sorption coolers. Spud's mastery of the science of astrophysics and sorbent material was quickly recognized by senior officials who whisked him away to undergo an intensive training program to prepare him for a mission to the MIR space station. It was felt that Spud's skill would prove invaluable in fixing the ongoing problems within the ailing space lab.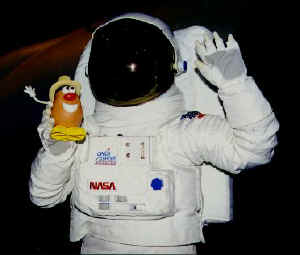 Spud practiced launching and docking in the Shuttle simulator, tirelessly navigating through the capsules in a weightless environment and spent countless hours maneuvering the Canadarm to retrieve and dislodge payload. Everything was going great and Spud was winning the respect of his human counterparts…. then came the centrifuge…
The intrepid potato was strapped into the centrifuge for the first time shortly after lunch on February 8th. Spud had just had a feed of Chinese from a greasy spoon nearby and definitely was not looking forward to what was in store. The rotational device started slowly, but soon picked up speed until it reached its peak at 8 times the force of gravity. The scientists were horrified to find that every appendage had been ripped from Spud's hollow core and there was chow mein as far as the eye could see. The potato's dream of space travel had come to an end.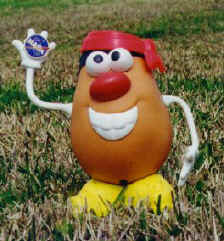 As a token of NASA's appreciation for Spud's assistance in correcting their sorption anomaly, they sent him on his merry way with a NASA pin to commemorate his experience with the Final Frontier.