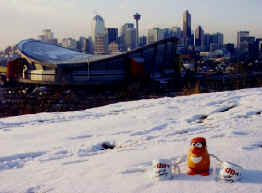 Spud's Mug
Once upon a time, Spud Potato Head was listening to Cliff, Jacquie and Larry F; the wacky morning show of Toronto's CISS FM as he had been religiously for the last few years. Spud had followed the fun-loving radio personalities ever since moving to Toronto from his home town in Calgary. When Jacquie Donaldson left Cowtown, Spud lost all interest in radio. Eager to satisfy his craving for music, he ventured eastward in pursuit of Jacquie's new stomping ground.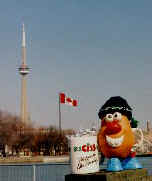 This particular morning, the crew spoke of a new contest they were having. He heard the trio requesting 'mug shots' to be sent in. Knowing that (from some of his prior adventures) he had compiled a great deal of mug shots in police records across the country, he began contacting the various precincts where he'd had "run-ins". Fortunately, Spud's radio is always tuned to CISS and he heard the next day that in fact the contest wanted pictures of people with their CISS mug!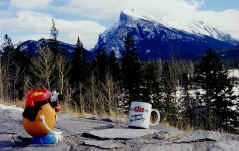 Relieved at the thought of the money he would save in phone bills, he pulled out his trusty mug that he's never without and grabbed his camera. In the midst of loading his film, the phone rang and work called him away to a conference in Western Canada. The photos would have to wait as he hurried to pack his body full of spare parts for his trip. The first leg of the conference took place in Banff, Alberta where he managed to sneak out of one of the dry presentations to snap a picture of his favorite mug against a backdrop of the Rockies.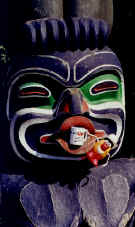 The next leg of the conference took him to Vancouver, B.C.. Once again, the presentations were less than exciting and he sneaked out to grab the skytrain over to Stanley Park. Hoping to get a nice photo of his mug with the Totem Poles that decorate the eastern end of the park, he was met with a surprise that almost cost him his arm! Knowing Spud had the ability to communicate with other inanimate objects, a Totem begged a drink of latte' from Spud's exquisite mug. Being the friendly tuber that he is, Spud gave the wooden figure a taste. The Totem was not content to have just a sip and tried to ingest the mug - and Spud with it! Fortunately the intrepid potato was rescued by a couple that witnessed the event, moments before being swallowed whole!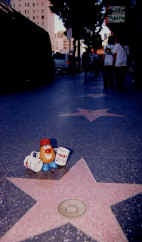 The conference then moved south to California where Spud would be cooped up in a stuffy boardroom for two days learning all about quantum physics. Not looking forward to the sheer boredom that lay in wait, he searched his tourbook for some of the local 'tacky tourist' sites that Spud adores. Having a meeting in Los Angeles-home of the stars, left little to decide on what to see! He didn't hesitate when the lights dimmed for a slide show presentation in the boardroom. He slid down the air vent out of the room, his mugs clamouring on the ducting as he rolled down to the street. Scurrying across town as fast as his plastic feet could carry him, he managed to finally reach the 'Walk of Fame' where he stopped and posed for a pic.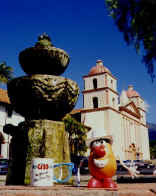 Being so close to the picturesque city of Santa Barbara, Spud couldn't resist the temptation to skip the rest of the conference and head the two hours north of LA to the seaside hamlet. Spanish American architecture is a favourite of the plastic orb and he had heard that one of the most impressive missions was located there. While visiting the historic building, locals were admiring the attractive mug he carried; so much so, that Spud feared for its safety! Ever since the episode with the Totem in B.C., Spud had become paranoid about his prized possession. To ease his mind, he roped up the mug so that it could not be 'liberated'.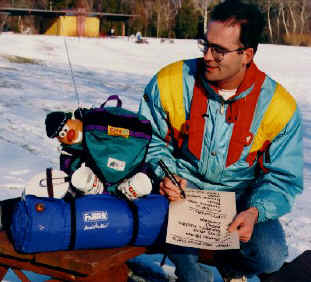 Returning to his motel, Spud found that his colleagues had all left. A quick inspection of his airline ticket showed that he had missed his flight home. Fortunately at LAX, he met up with a pleasant chap from Toronto named Timm Chapman who also was a fan of the CISS FM morning show. He agreed to 'smuggle' the potato back into the country in his backpack. Upon returning to Canadian soil, Spud thanked the man generously and offered one of his prized mugs to him as a token of appreciation. Knowing the significance of this gesture, his new friend accepted with heartfelt thanks and the two formed a lasting bond; a bond so strong that Spud now resides with the man and his lovely wife Molly, in their humble home in Scarborough. The two are inseparable and travel almost everywhere together, packing only the true necessities: their prize mugs, a supply of Hershey's kisses, a radio (with a really strong antenna!) and a camera to document their travels!
Spud has sent in his 'mug' pictures and the tales of his adventure to Cliff, Jacquie and Larry F in the hopes of winning their contest and getting to soak up the sun in paradise! He hopes that they may be giving three tickets away so that he can bring along his new found friend and his wife as he's not keen on long flights stuffed into a backpack! Will luck go his way? Well its now out of his hands and up to his morning crew pals to make their decision… Let's hope they don't like mashed potatoes!!!