Skiing in the Rockies
Spud returned to the Rocky Mountains of Alberta in the winter of 2000 to spend a day on the slopes of the Lake Louise ski resort.
It had been 7 years since the tuber had last strapped on his skis. Ever since moving to Ontario in 1994, Spud couldn't bring himself to pay the exorbitant lift ticket prices at the local resorts. Besides, in Ontario, the biggest hills are often dwarfed by the speed bumps in the parking lot.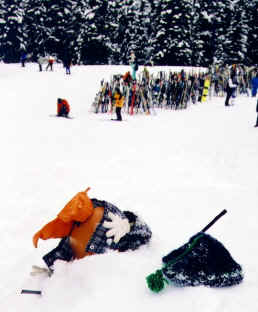 Eager to feel the exhilaration of the mountain's long runs, Spud hopped on the high speed chair enroute straight to the summit. After disembarking at the top, Spud peered down the summit run - a double black diamond. The steep grade of the snow intimidated others, but the tuber was boiling with testosterone and roared down the slope.
Unfortunately, the 7 year hiatus from skiing was evident in his form (or lack thereof) and he soon found himself hurtling completely out of control. Reaching speeds of almost 120 km/h and mashing 6 hapless people in his path, the tater came to an abrupt halt after getting launched face first into a snow drift.
Medics rushed over to Spud and extracted him from the snow. After assessing the tater's injuries, one of the medic's remarked 'It's a good thing your arm's rubber, cause you probably would have broken it." Spud thought about the man's words and a large smirk came across his face.
Spud spent the rest of the day in the lodge with his arm in a sling - garnering sympathy from the many ski bunnies as he regaled them with his embellished plummet down the suicide summit run.