Spud's Story - Part V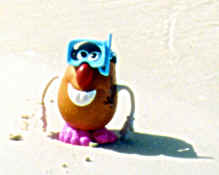 The Canadian winter can be cruel with it's brisk northerly winds and relentless snowfall. It can compel men to hibernate in front of the television with the remote surgically attached to their hand, it can force women into shopping malls with credit cards surgically attached to theirs...potatoes on the other hand, seek refuge in warmer climates. Spud was no different when he sought to escape the cold and snow by heading south to the tiny Caribbean island of Aruba.
On occasion though, tubers will partake in winter sports - as was the case with Spud when he returned to Alberta in late 2000 to ski the slopes of the Rocky Mountains.
One can not visit Alberta without heading to the greatest restaurant on the face of the earth: Smugglers' Inn in south Calgary. Smugs serves the best cut of Alberta beef - the Owner's cut of Prime Rib. 24 ounces of blood pumpin' beef on a plate...and yes, the potato is always on the side. I'm just droolin' thinking about it!
Spud made his annual pilgrimage back to the Valley of the Sun in January of 2001. It turned out to be a wild adventure in the old western town of Old Tucson. Spud was lucky to escape with his life!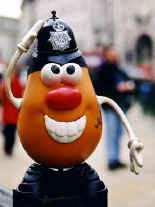 February of 2001 found Spud making a triumphant return to London, England on a quest to add to his immense collection of Royal Family paraphernalia. No longer would he be content with such gems as his Duchess of York 'Slim fast' pie crusts, or his supersize, Prince Charles ear-shaped headphones...this quest was for the ultimate in Royal keepsakes! He would return later that month to assist Scotland Yard in finding a suspected terrorist. What he did find he really could have done without.
In May of 2001 Spud discovered a critical clue to his forgotten past. This discovery could possibly have unlocked the mystery to Spud's past prior to 1985 and possibly lead him back to his roots. Needless to say, he capitalized on the opportunity and whisked down to Rhode Island to follow the trail to his parents. Spud would soon realize though, that some things are better left unknown... Later that month he also made a pilgrimage to Boston to see a huge memorial to his favourite TV icon: Archie Bunker. Reeling from the actor's untimely death, Spud thought a visit to the site would bring some closure.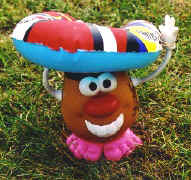 June of 2001 found Spud heading to Northern Ontario to run the rapids of the raging Ottawa River. The mighty torrent tested the tuber's rafting skills as it tried feverishly to drown the poor tater in it's swirling waters. Nothing a good stomach pump couldn't fix! Later that month Spud headed west to the tiny town of Carberry, Manitoba where he was ordained "King Spud".
Later that month, in an effort to combat skyrocketing fuel costs, Spud ventured to the oil fields of Saskatchewan to try to extract his own gasoline from the Canadian Prairie, It shouldn't have been too difficult, after all, he had easy to follow instructions!
July found Spud venturing down to the deep South of the U.S. in search of big fuzzy fruits! No, I'm not talking about hairy guys that walk around in black leather and sing show tunes, I'm talking about peaches! Georgia and South Carolina have been battling for years to win the peach crown, so Spud went to see what all the fuzz...err fuss, was about!
August proved to be a busy month for our tater as he was able to wangle his way back into the NASCAR fold to once again try to put his Tuberossa in victory lane. This was a shock as his last race wound up being an embarassment to the sanctioning body. The high banks of Bristol Motor Speedway would see the return of the tuber to racing. Never having been to Tennessee before, the tuber took advantage to see some of the state's tackier highlights as well as visiting nearby North Carolina to pay his respects to fallen stock car legend Dale Earnhardt, while he was in the area for the race..
Motivated by the finesse and physical conditioning of fashion plate George Kennedy, Spud decided to return to Washington state in September of 2001 to finish what he had started back in June of 2000: to climb Mount Rainier. He put his espresso aside in an effort to ensure he would be successful this time out.
October would find Spud making his first ever sojourn to the land of antiquities and olives: Greece! Normally, Potatoes aren't a big fan of going anywhere near grease, but fortunately this place was much more welcoming!
While people all over the globe were waiting in long queues to see a movie about Colonel Harry Potter and his Kidney Stone, Spud was at home to welcome his 50000th visitor on November 13, 2001 - further proving the fact that there are far too many folks out there craving needless information. Always one to look for business opportunities, if Spud sees a market for something, he'll be the first to cash in. After all, he has a wealth of needless information!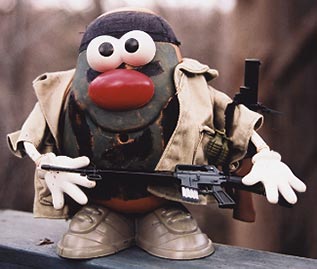 Tormented and despondent over the terrorist attacks of September 11th, Spud decided to do his part for the preservation of the free world and enlisted in the Canadian Army to fight the war against terrorism. He would become the first potato to ever be given a gun as all the others wound up on plates in the mess hall. The tuber was recruited for a secret mission that would bring him face to face with terrorist kingpin and all around dreg of humanity: Osama bin Laden...at least, that was the plan...
A flight to Pakistan would follow soon after and land Spud right in the middle of the conflict. Armed only with replacement body parts, the tater would find himself getting much more than he bargained for!
After playing his part in the war against terrorism, Spud made a solemn journey back to the site of the terrorist attack at Ground Zero in New York. It was humbling to see the devastation of these heinous acts, but encouraging to see the determination of New Yorkers return to some degree of normalcy.
In March of 2002, the Mister Potato head toy celebrated it's 50th birthday since first coming on the toy scene back in 1952. Cards packed with gift checks and cash started pouring in Spud's mailbox with birthday greetings. Not one to spoil the party by telling anyone that he personally was only 17 in potato years, he gracefully accepted the offerings and beamed as he planned his next exciting excursion. To celebrate this wellspring of good fortune, Spud headed south to the New England state of Connecticut - home to showmen and scholars.
May of 2002 found Spud particularly busy. After seeking out some R&R in the sunny Caribbean island of Jamaica, he headed to Detroit, Michigan to pick up his new custom hot rod. Eager to test out his new wheels, the tuber took in some of Michigan's highlights (well, 'highlights' might be stretching it a bit!)
The wonders of satellite programming transported Spud back to the old West where he got inspired to learn the ways of the Navajo at Monument Valley in Utah in June of that year..
Spud's wheels got their first real test in July when he took on the loud-mouthed prima donnas of the Indy CART series. They had been slagging Spud ever since he first put a beating on the NASCAR drivers and the potato figured he had better shut those boys up. The Molson Indy in Toronto, Canada would be the place for the showdown.
August 2002 found Spud trying to battle the big US biotechnology labs that were torturing potatoes in the name of science. His battle took him all the way to the White House in Washington, DC.
September would see Spud making a return to the Cascade mountain range of Washington state, with a goal to reach the summit of the state's second highest mountain: 12276 foot Mount Adams. Sure, it was shorter than Mount Rainier, which Spud had climbed many times before, but Adams was no slouch as the potato found out.
October found delivery of Spud's custom made monument to himself: a 100 foot tall hot air balloon in the potato's likeness. The tuber traveled down to the world famous Albuquerque International Balloon Fiesta in New Mexico for its maiden voyage; and what a voyage it turned out to be...
Eager to get a jump on his spring wardrobe, Spud traveled to North African country of Morocco in early November. His trip would also take him to nearby Spain for another first time visit.
November 11th, 2002 would prove to be a very memorable date for Spud. It was in the wee hours of that morning that his labour of love, his website, welcomed its 100,000th visitor. An impressive milestone considering there is no socially redeeming value in any of its content. Its just a crazy web page of some plastic potato traveling the globe! To celebrate this monumental event, the tater released a special edition screensaver that visitors could download for free. Unfortunately, though, all things must come to an end and the free download expired at the end of December 2002.
A phone call from a television production company in February of 2003 would lead to Spud's first ever trip to the Caribbean paradise of Belize, where he was to star in a brand new reality show taking place on Temptation Island. The temptations were certainly great down there, as two females competed against one another by trying to seduce our hero. Aaah the toils of celebrity... Aside from fighting off the babes under the hot sun, Spud also took advantage of the crystal clear waters of the Caribbean to search the ocean floor for lost Spanish treasure! The search would turn up something other than gold dubloons!
Spud took time away from the cold Canadian winter to pack up and head south again later that same month, this time to Mexico's Yucatan peninsula to visit the amazing Mayan ruins of Chichen Itza, Uxmal and Guatemala's lost city of Tikal. The potato hoped to uncover some of the mysteries surrounding this amazing civilization that flourished in Mesoamerica for over 3000 years before suddenly dying out in the 11th century. His adventure found him exploring the steamy jungles of the Yucatan in search of a lost treasure of silver bars.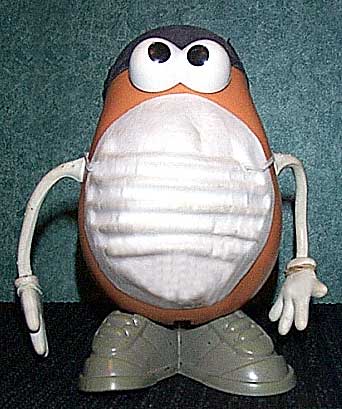 Sudden Acute Respiratory Syndrome (SARS) gripped the world shortly after Spud returned from Central America. People were contracting the deadly disease in many countries and fear of an outbreak soon consumed the Western World. The World Health Organization (WHO)was especially concerned with Spud, being the global traveler that he is, the WHO figured the potato could become the next Typhoid Mary. To prevent the possibility of transmitting the disease, the WHO put Spud in quarantine; ending his travels for a few months until the disease was contained.
The months seemed like an eternity, but when the quarantine was finally lifted, Spud was pleasantly surprised to learn that the Rolling Stones and a number of other big name bands had thrown a party for the tater and invited along about 460,000 people to celebrate his release back into society. The event was coined SPUD STOCK and would turn out to be the largest single ticketed event in history.
No sooner did SPUD STOCK wrap up, then almost all of Ontario and the North Eastern United States was plunged into darkness during a massive blackout that would wind up lasting for days, that is until Spud stepped up to assist in getting power back to the people. His efforts were acknowledged with a free week-long vacation to Canada's beautiful cottage country for a bit of R&R in the great outdoors.
The sudden departure of NASCAR bigwig Bill France, provided an opportunity for Spud to return to the Irish Hills of Michigan in late August for another race against stock car racing's elite. The race would be hard fought this time around, not like the last time he visited the Speedway.
With the long cold Canadian winter on the horizon, Spud felt it was time that he get himself a proper vehicle that could handle the mammoth snow drifts that commonly shroud the Great White North in the winter months. Plus, with the right vehicle, the potato could find himself visiting new remote places that were previously inaccessible to his low riding sports cars. With that goal in mind, the tuber set off to Ohio in late August, to have his dream machine built.
December 12th, 2003 marked the day for Spud's 200,000th visitor to his humble website, this means a 100% traffic increase over 2003, which was a 100% traffic increase over the prior year. Wow - with growth like that, its painfully apparent that alot of people are sure goofing off at work!
2004 would mark a major change for Spud. He had spent enough time under the grey muslin skies of Toronto and was eager to see the sun. So much so in fact, that he pulled up his tent stakes and prepared to relocate to the Valley of the Sun: Phoenix, Arizona. He would not leave the Great White North of Canada before at least trying out to become the next CANADIAN IDOL.
The Story doesn't end there!
Read on to find out more about Spud!