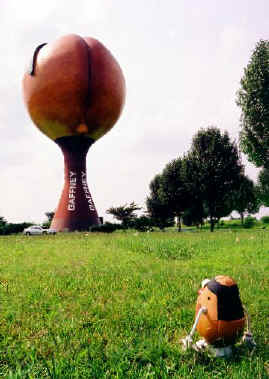 SOUTH CAROLINA
Spud traveled to the lush plantation lands of South Carolina in July of 2001. No, it wasn't the magical beauty of the Old South that drew the tuber here. Nor was it the sculpted fairways of Myrtle Beach or even the hallowed halls of the BMW museum & assembly plant in Greer. Instead, it was the magnetic draw of the giant PEACHOID that compelled the tater to visit the small south eastern state.
The PEACHOID is in fact, the world's largest peach, who's day job is modeling as a water tank for the tiny town of Gaffney.
South Carolina is quite fond of it's peach heritage, even though it's neighbours in Georgia have liberated the title of 'the peach state' as their motto. Although Georgia has this slogan plastered across every one of their license plates, it is South Carolina that is the largest peach producer east of the Mississippi.
The South Carolinians are very modest about their record and don't seem to care that Georgia is trying to cash in on the peach frenzy; the PEACHOID does all the talking for them. In fact, when viewed at the right angle, the PEACHOID'S 'crease' appears to give the illusion of a big fuzzy butt, which is aptly positioned to be facing toward their Georgian neighbours.