Homage to a hero
While Spud was in the heartland of the stock car racing community, he took some time out to travel to the hamlet of Concord, NC to visit the Charlotte Motor Speedway.
Unfortunately, the track was not open, but Spud did manage to see the facility's Walk of Fame; where many of the sport's greatest drivers have put their hand and footprints into a walkway outside the main entrance.
Apparently, when plans for the Walk were first being developed, there was a shortage of cement in the area - brought on by a number of crime families from New Jersey who had purchased great quantities to make 'shoes'.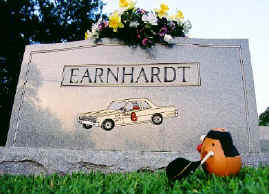 The developers then sought an alternative; another easily compressible, moist material that would dry hard. Unfortunately, their choice did not appeal to the legends that were being honored. They weren't too fond of placing their hands & feet in cow manure.
Not only is North Carolina home to countless speedways and race teams, its also the state that produced the two greatest drivers the sport has ever known: 'The King' Richard Petty, and 'The Intimidator'; the late Dale Earnhardt.
Spud, like the rest of the U.S.A., was shocked and saddened when Earnhardt lost his life in the final lap of the Daytona 500 in February of 2001. The tuber would be remiss not to pay homage to this legendary icon, so he ventured to the driver's hometown of Kannapolis.
His family had a private burial somewhere on their expansive 400 acre property, so Spud paid his respects at the gravesite of Dale's father Ralph Earnhardt, who was one of the pioneers of the sport.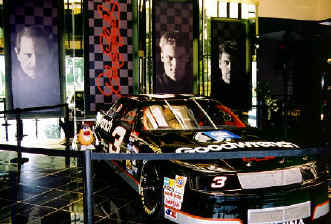 To complete his tribute, Spud's next stop was Mooresville, which has been aptly dubbed 'Race City, USA' as it is home to over 60 different teams that race in NASCAR. On the outskirts of town, he found the race shop of Dale Earnhardt Incorporated (DEI). This state of the art, multi-million dollar facility builds the cars and engines used by some of the sport's top teams. More importantly, its also a museum recounting the icon's career from his simple beginnings in poverty with a ninth-grade education to becoming one of the world's most recognized and successful athletes.
Spud wandered through the shop and admired the accomplishments of this fierce competitor; his 76 victories, his 7 championship titles and his countless contributions to the sport and to his community.
Spud found Earnhardt's trademark black #3 race car in the main foyer with a portrait of the man behind it. He remembered the dreaded feeling he (and every driver) got when he saw this car in his rear view mirror at the racetrack.
Spud realized that the only thing worse than seeing Earnhardt in your mirror is not seeing him at all.