Tacky Tennessee

Spud had heard that the state of Tennessee is a veritable treasure trove of tacky tourist traps. The potato has always considered himself a 'connoisseur of kitsch' and could not resist a trip to the southern US state to take in its offerings. First stop on his itinerary was the town of Bristol.
Bristol's claim to fame is that they are known as 'the birthplace of country music'. In 1927, a talent scout for the Victor corporation came to the tiny town and recorded the music of local acts like the Carter family and Jimmie Rodgers. The scout then took this unique sound (which he coined 'hillbilly music') to the masses. These recording sessions may have given birth to country music, but apparently no one wanted the baby. It was not until years later that Nashville adopted it and raised it as it's own.
Scrambling for another way to promote tourism to the area, the citizens of Bristol decided to draw the Tennessee/Virginia state line right through the center of town. While it wasn't effective in attracting droves of tourists to the area, the town did swell with moonshiners, who found eluding police, by running wood grain alcohol across the state line, was infinitely easier.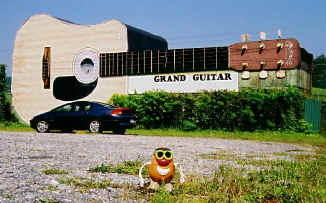 Next stop on the tuber's tacky itinerary was the Grand Guitar – a giant, six stringed multi purpose instrument. In its heyday, the big guitar posed as a radio station and museum of country music memorabilia. At one time, the instrument boasted the largest collection of Porter Waggoner outfits. Even with a magnetic draw like that, the museum closed due to lack of interest. Today it sits slowly decomposing like Michael Jackson's career.
CLICK HERE to go on with the tour!