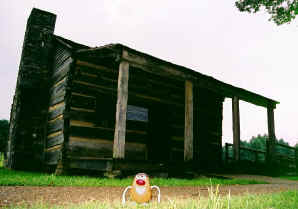 Touring Tennessee
A trip to Tennessee would not be complete without a visit to pay homage to the state's greatest hero: Davy Crockett. Spud found the birthplace of the legendary 'King of the Wild Frontier' quite enlightening. He learned that the frontiersman's TV theme song "The ballad of Davy Crockett' was riddled with inaccuracies. First off, Crockett was not born on a mountain top, but in a cabin on the banks of the Nolichuckey river – a cabin built of pressure-treated lumber no less! Secondly, he never killed a bear when he was three…although legend has it that he ate a big hairy caterpillar.
Although Davy Crockett is best remembered for his courageous battle for Texas' independence at the Alamo, few know he was the original president of "The Hair Club for Men", setting a trend of wearing a dead animal on his head.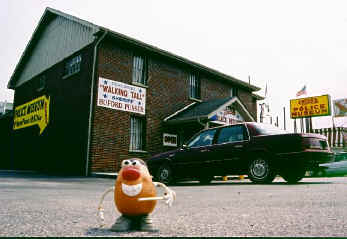 While Spud found Crockett OK, his personal belief was that Sheriff Buford Pusser could pound the crap out of wilderness boy any day of the week. The McNairy county law officer was a real hero whose life has been painstakingly displayed behind glass at Carbo's Police Museum in the tourist haven hamlet of Pigeon Forge.

Pusser was a 6 foot, 6 inch cop that took on organized crime in Tennessee armed with a bad attitude and a really big stick. Ridding crime carried a heavy price though: His wife was killed and Pusser was stabbed seven times and shot eight more. He even had half his face blown off, but couldn't be stopped in his pursuit of justice. This guy was like Rambo with a really bad haircut.
The museum chronicles the legend of the man from his early beginnings as a professional wrestler to having his life portrayed in three successful movies (the Walking Tall series). Of course, no museum would be complete without a death car and Carbo's is no exception. The 1974 Corvette the sherriff died in is morbidly on display. Spud's sorrow was short lived though as he was able to pick up some Pusser keepsakes on the way out. As enticing as the $29.95 Buford watches were, the potato opted for the less expensive replica Buford Pusser Law Enforcement bat.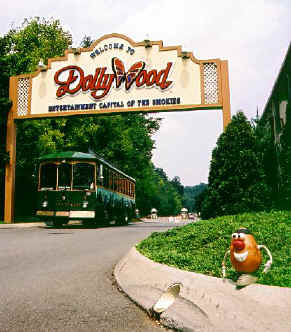 Tennessee is also home to the most visited national park in the USA: the Great Smoky Mountains. The reason for this pilgrimage is that the park is the gateway to Dollywood: Dolly Parton's sanctuary of shameless self-promotion. Since purchasing the park in 1986, the buxom singer has grown the site into one of the largest amusement parks in the world. It's no wonder as Dollywood offers lots to its visitors: a great location, a huge waterpark, countless rides and oodles of live entertainment. But it's two biggest attractions appear only when Dolly drops in for a visit.
Unfortunately for Spud, the robust blonde wasn't there when he was. Somewhat disenchanted, the tater packed up and headed for home.