Spud's Story - Part VI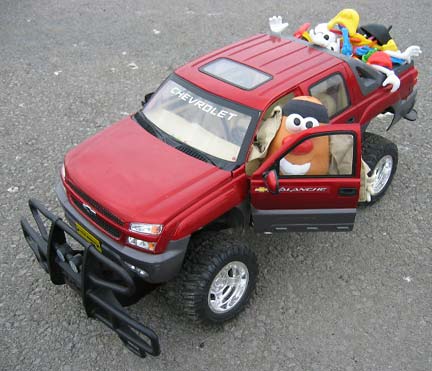 In August of 2004, the Tourist Board of West Virginia convinced Spud to come visit the rolling hills of their state. The plan was to see a covered bridge in Phillipi, but he found that there were far more secret treasures hidden in the hills nearby. Along the way, the tuber also passed through Virginia and wound up paying the price...
Having been cultured to warm temperatures (such as boiling water or a toasty convection oven), potatoes don't usually fair too well in the sub zero Canadian winters. In the fall of 2004, Spud decided he was not ready to face another 6 months of defrosting himself in the microwave, and made plans to relocate to the Valley of the Sun near Phoenix, Arizona in the USA.
Being a Canadian potato however, meant that he would have to face the red tape of Immigration & Naturalization Service at the US border. The INS wound up being the least of his worries.
Spring of 2005 would prove to be a very busy travel time for our intrepid potato. On the itinerary, Spud would travel to Germany, France, Hong Kong, Japan, The People's Republic of China and Singapore!
When Spud returned from his whirlwind trips to Europe and Asia, the creditors were pounding on the taters dirt mound looking for cash. His wild spending overseas drained the potato's bank account and his royalty checks from Toy Story 2 had stopped coming. The tater was in dire need of generating income to fund his global exploits!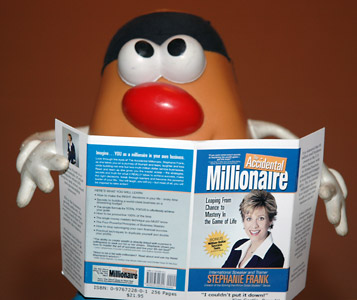 Not being one to sell his body to make a buck, the potato turned to entrepeneurial diva, Stephanie Frank for advice on how to get the money rolling back in. Frank is the author of the hot selling book 'The Accidental Millionaire' which gives loads of tips and advice on how to generate multiple streams of income. The two met and Spud came away with loads of ideas for turning those streams of income into torrents of cash. Twas a good thing as his monthly visa bill weighs almost as much as he does!
Spud made his first visit to Maryland in the summer of 2005. He would find that Maryland has an obsession with bodily functions, which had intrigued the potato, so he set off on his 'Tour of the Unmentionables'.
Spud made his second visit to Utah later that summer. There are a ton of things to see in this great State, so Spud tried to take them all in.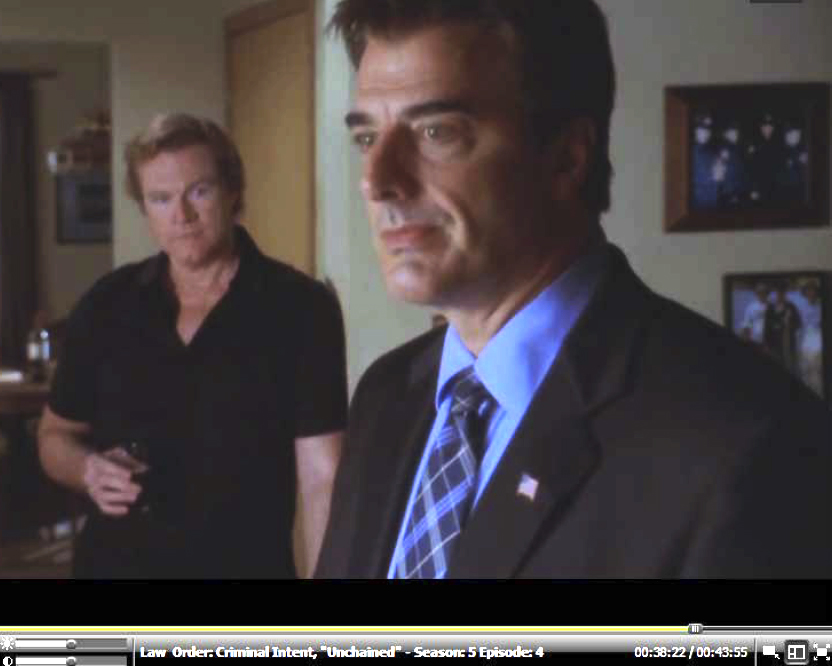 In October of 2005, Spud had settled down for dinner in front of the TV when on came an episode of Law & Order: Criminal Intent came on. Being one of the tato's favourite shows, he watched intently as the plot unfolded. Needless to say, he was shocked when he saw himself on screen, 38 minutes into the program. If you notice in the screenshot above, just behind Christopher Noth's shoulder is a photo on the wall. It just so happens to be this same one below which was taken with New York's finest shortly after they busted him in March of 2000: Spud had sent one of the officers an 8x10 as a thank you for 'letting him off', and well, the photo obviously got around...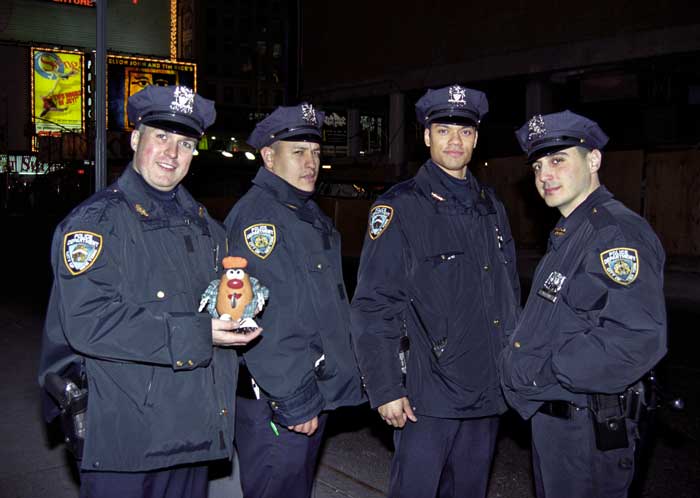 The winter of 2006 would mark Spud's second in the desert, and he longed for a return to the Great White North to experience the frosty goodness of the cold Canadian winter. What better place to experience sub zero temperatures than in Churchill, Maniotba - the Polar Bear capital of the world. The tater certainly got his fix, and also needed to be fixed when he returned!
In March of 2006 Spud was served with notice that his assets had been frozen by his ex-wife. Even though his short-lived marriage was over long ago, she was fighting for alimony payments. Discouraged, all Spud could think of was getting away. That opportunity came up in April when he took a job on a cruise ship!
On April 21st, 2006 Spud welcomed his 500,000th unique visitor to the website! Staggering to know that there are that many people out there with so much free time on their hands! He celebrated by providing everyone a free link to download a screensaver of his favourite travels over the past 17 years.
In June, Spud set out on a quest to the Middle East in search of the elusive Holy Grail. The search would prove to be quite difficult as he scoured the vast desert landscape of Jordan looking for clues.
August of 2006 saw Spud return to Japan to climb its highest peak, Mt Fuji and witness the sunrise atop the Land of the Rising Sun. It was inspiring and spiritual, that is until an unwanted guest dropped in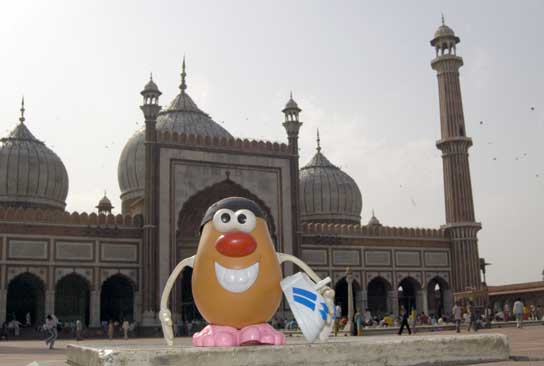 September of that year Spud was invited by the India Tourism board to come visit their country as an honorary ambassador. Unfortunately they didn't tell him that cows are sacred in India, and thus it would pretty much be a vegetarian trip. Had he known that, he probably would have missed seeing the sites in Delhi and the Taj Mahal.
In November of 2006, it was time for Spud's second trip to the Mid West USA. He had not spent much time in America's heartland, so what better introduction could one have then to visit the working class states of Minnesota & Wisconsin. The following month Spud would be faced with alien conspiracies and the worship of a holy tortilla!
August of 2007 saw Spud's first trip to the neighbouring state of Colorado - it was a fun road trip that took in some history of the Old West, a Haunted Hotel and the tiny hamlet of South Park.
In September of 2007 Spud celebrated his 10th year of being on the world wide web. To celebrate this monumental achievement, the tuber took his longest trip ever - to deepest darkest Africa to visit the desert landscape of Namibia!
After a huge trip like that, it was time to take a break back home, do up his taxes and wait for his refund, which would fund his next trip: this time to visit the first state of the Union, Delaware, and then off to the nearby city of love in Philadelphia, Pennsylvania. A road trip thru the Pennsylvania countryside proved to be enlightening as well!
2008 saw the start of an economic downturn in the US, and with it, Spud's travelling was somewhat curtailed. When an opportunity came for Spud to run into some cash, the tuber ran with it and headed north to Reno, Nevada to try to parlay it into a real stimulus package!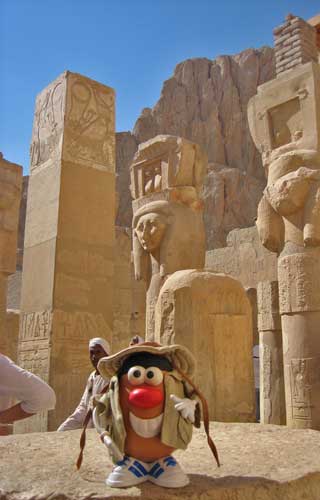 Late 2009 found Spud signing a lucrative deal to reprise his role in Toy Story 3 for Disney Pixar, and he took his advanced signing bonus to take a trip to Egypt to walk in the footsteps of the Pharaohs. It was a welcome relief to escape the USA for a while, after making his first, and likely last, trip to Idaho - the potato capital of the US
In late 2010, Spud made his return visit to see hiw homeboys, the world's other famous heads at Easter Island. It had been 11 years since the tuber hung with his homies and it was a great reunion. From Easter Island the tater continued South to the farthest tip of South America to begin his exploration of the windy, isolated Patagonia.
2012 found the tato finally venturing to the heartland of America by driving along historic Route 66 and visiting the Texas panhandle, Oklahoma and Kansas in the process. He also made a return visit to Wyoming in the late summer of that year
2013 had the tuber visiting more of the Heartland, this time Iowa, Kentucky, Indiana, Arkansas and a return visit to Tennessee, Minnesota & Wisconsin. Amidst all that travel, he even found time to nip over into Louisiana to follow the footseps of two of the most notorious gangsters the world has ever known.
2014 had the tuber on the road again, with a trip to the Mediterranean to escape the Winter. That didn't work out quite as planned and he found himself in Iceland instead . If that wasn't enough excitement, surely visits to the Ozarks of Missouri, the cornfields of Nebraska and a return trek to Iowa would do the trick!
In August of that year Spud's long time travel buddy and photographer was interviewed by WFUV radio, an NPR station in New York so that he could share a quarter century of adventures with listeners. Plus Spud was never one to back away from a challenge, so when the nomination came in August of 2014, the tater took on the ALS Ice Bucket Challenge and brazened the ice water and massive ice'bergs' for a good cause. You can do the same and show your support in the battle against this horrible disease. Learn more at www.als.org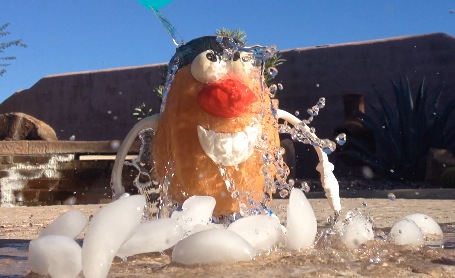 October of 2014 found Spud making a return visit to Virginia, but this time to see Mount Vernon and get some dental tips from the Father of Independence!
For the greater part of three years, Spud's IT guy and webmaster had been more interested in playing online games than updating his website with these latest adventures, so he gave him the punt. Instead, he solicited the help of an 8 year old who appeared to be light years ahead technically and was happy to work for cheap. So fortunately links will soon be added to many of his latest adventures - stay tuned.
Travel is an obsession with Spud. His quest to see and explore this great world of ours is something most of us can just dream about. To Spud, it's a neverending adventure - there are a ton more tacky tourist traps out there that this tuber must patronize!