IOWA
Headstones, Birthstones & a couple of Stoners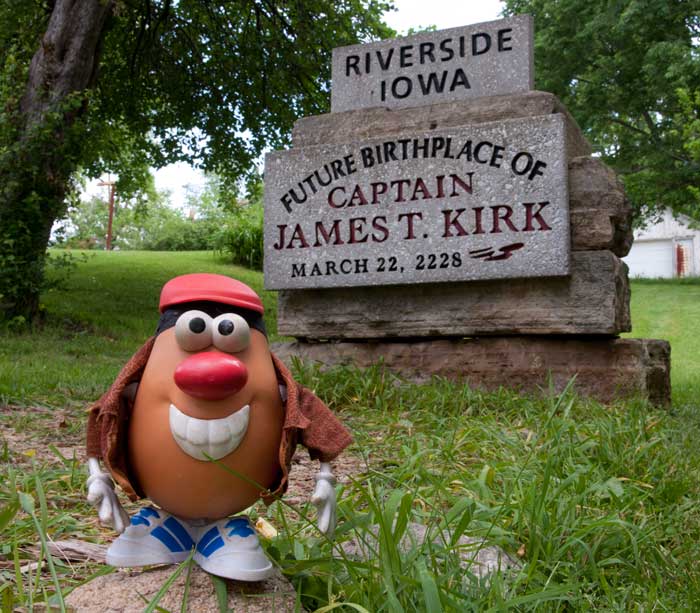 Spud made his first trip to the corn cob state of Iowa in the summer of 2013. Although Iowa rarely comes top of mind when thinking of spectacular scenery or 'must see' stops, but it certainly has a few that appeal to this potato. First and foremost, Iowa is known as the birthplace for a true American hero: Captain James T Kirk. Of course Spud knows the true birthplace of William Shatner, who portrays Kirk, is in Côte Saint-Luc in Quebec, Canada, but that's merely semantics...
In American lore, the Captain of the USS Enterprise will hail from the tiny hamlet of Riverside, Iowa. Although he isn't supposed to be born until March 22nd of 2228, a monument to his birth (eerily resembling a headstone) has been erected. Although he's made from a space-age polymer, Spud wasn't sure he'll be around in a few more centuries so he thought he'd drop by to pay his respects in advance.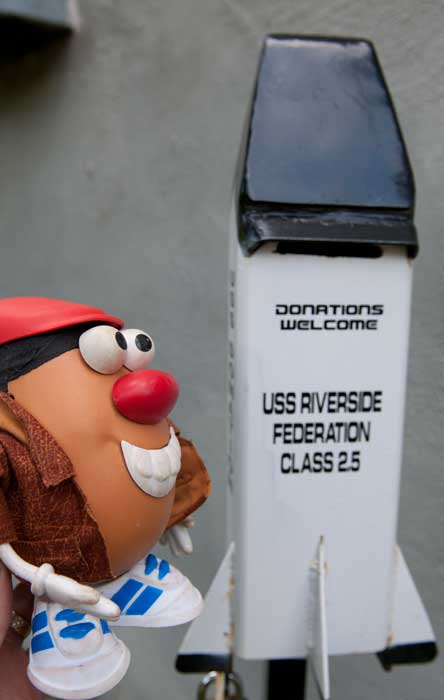 Had he wanted to 'pay' in more tangible terms, the tato could purchase a vial of 'Kirk Dirt' dug from this very site, and available for sale from the nearby gift shop, however he decided the dirt stuck to the soles of his shoes would suffice.
Next stop after Riverside would be The outskirts of Clear Lake, the site of the fateful plane crash that took the lives of crooners Buddy Holly, the Big Bopper and Richie Valens in 1959.
In the late 50s, the trio were on top of the early Rock n' Roll scene chartering new territory and influencing the future of the genre and fashionable geek eyewear for generations. On a fateful snowy night however, an untrained pilot lost control of the aircraft and a farmer's field would close that chapter of music history. Apparently the impact was so massive, not only did it kill Holly, but it also gave actor Gary Busey (who played Holly in the movie 'The Buddy Holly Story') permanent brain damage and obscenely large dentures. Spud made his way to the impact spot where a plaque honours the three.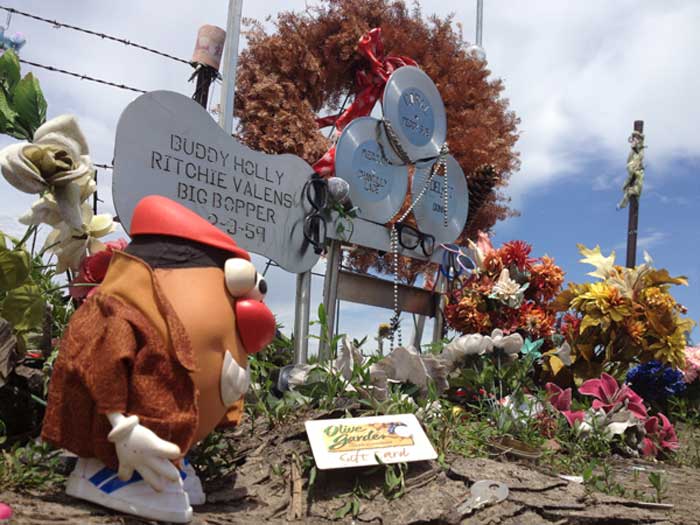 The tuber noticed numerous mementos and small gifts from fans adorning the memorial. Spud noticed that one of those gifts happened to be a gift card for Olive Garden. A nice thought one would suppose, however its likely safe to say that neither of the trio will be dining there anytime soon
Next stop on the Iowa tour would come a year later in August of 2014. This time the stop to make was 'Antique Archaeology' in LeClair Iowa. Spud is a big fan of the show American Pickers, and thought he'd drop in and hang with Mike, Frank and Danielle & share stories of living on the road.
Mike and Frank were notably absent, no doubt on the road acquiring treasures from unsuspecting small town folk. Spud suspected there was a chance the boys might not be there, but fully expected Danielle to be on hand running the shop as she always does. Spud wanted to see her tats as she is known to have quite a set. Those of you that have followed the tater for years know that he had a thing for tats.
Sadly Spud would learn, she too was missing, replaced by a veritable army of souvenir sellers flogging everything from American Picker how-to books, to bumper stickers and shirts and everything in between.
As far as the 'antique archaeology' goes, few 'picks' on display were actually for sale. Plus they now no longer do online sales, so it is becoming clear that the boys are riding the gravy train of TV stardom as their main source of income. Sad, but not uncommon for 'reality stars'.
As appealing as a mason jar with Frank Fritz's mug embossed into it, the side dish left the shop with nothing, just a sullied memory and a photo outside with their iconic AA car.
.

Show me more travels in the USA!