Spud goes INDY racing
Soon after Spud's last commanding victory on the NASCAR Winston Cup circuit, tales of his dominance began to get around to other racing communities telling of the 'Tater with the lead foot'.
It didn't take long until the top Indy drivers in the Championship Auto Racing Teams (CART) series were slagging the potato's accomplishments saying they would make hash browns out of him if he ever tried to take on their 800 horsepower methanol rocket ships.
Always one up for a challenge, the tuber did not take these boisterous words lightly. Eager to shut the cry-baby prima donnas up, Spud contacted series president Chris Pook about securing a starting position for the Molson Indy Toronto.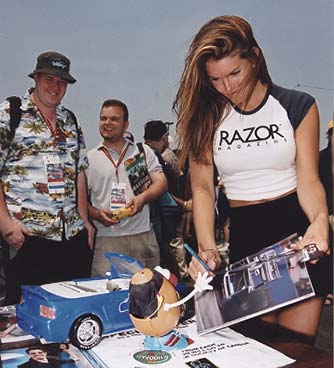 Spud learned that the CART rulebook required all cars to run a mimimum spoiler. Unfortunately, his race car didn't have (or need) a spoiler, so it was deemed non-compliant and couldn't compete. CART veterans Michael Andretti and Paul Tracy laughed at the potato's apparent predicament and patted each other on the back in celebration. The pair's jubilance quickly turned to nervous anxiety when they witnessed the tater add his new hot-rod mustang convertible (which did have a spoiler) to the starting grid.
When the word got out that Spud would be in the race, ticket sales skyrocketed. Scrambling to meet the demand, race organizers worked frantically erecting new grandstands all around the 1.755 mile circuit.

Never one to disappoint his fans, the potato arrived at the paddock early to greet his legion of groupies and sign autographs. His fellow competitors hid away in their race haulers obviously despondent of the attention and admiration their tuberous foe had commanded.
As the green flag drew nearer, the potato had to reluctantly leave his adoring followers to make some last minute adjustments to his car. Now on the verge of panic, his competitors peered intently at the side dish with binoculars from inside their trailers; longing for a glimpse of what secret Spud had for his tremendous speed.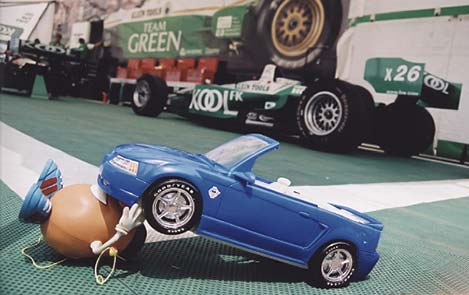 A few turns of the wrench and Spud had his engine purring like a panther. The potato smiled and returned to his ever-growing posse to continue signing autographs.
The other race teams rushed about feverishly trying to get their cars to sound anywhere near as good as the tater's. Car owners Paul Newman and Carl Haas threw up their hands in disgust as they replaced engine after engine unable to find the right combination.
Soon the call to the track was made and all teams had to make their way to the pit area.

Cocky Paul Tracy, usually a 5'10" bag of hot air, was now a burbling pool of sweat in a green firesuit. As he saw Spud throw on his helmet, he knew it was time to put up or shut up.