Racin' in Thunder Valley
After suffering a traumatic experience at the conclusion of his first race, Spud felt his career in racing might have been over before it really got started. The executives at the National Association of Stock Car Auto Racing (NASCAR) had made it painfully clear that a potato of exceptional talent was not welcome amongst their homegrown lot of redneck good ol' boys.
Of course, Spud could have taken the giant monopoly to court but that would have taken time and loads of money to fight off NASCAR's army of high priced lawyers. The tater had something much better ... polaroids of NASCAR kingpin Bill France.
All it took was a subtle note & a few samples in a non-descript envelope and the NASCAR bigwig was inviting the potato back to the track. Spud would make his return at the world's fastest half-mile: Bristol Motor Speedway, in the hills of Thunder Valley in northern Tennessee.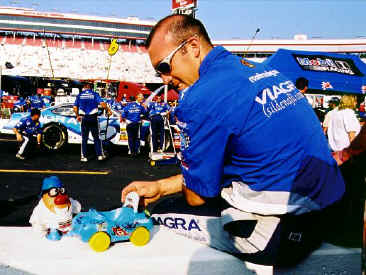 Since Spud embarrassed his competition so badly in Michigan the prior year, the tuber agreed to some rule changes that would even up the field and make the race more competitive for the fans. The new rule package stated that the potato had to be fully dressed in sour cream, chives, diced onions, butter and bacon bits to negate (what NASCAR deemed to be) a weight advantage over the other racers.
NASCAR inspectors also found that Spud's car was running non-approved tires. The officials relented though, after finding that Goodyear doesn't produce race tires with a 2 1/2 inch diameter.
Final preparations were made to the car while the crowd of over 150,000 fans filed in to the high-banked oval. Soon it was time to go racin'.
Since Spud and NASCAR came to their 'agreement' at the last minute, the potato had to start at the rear of the field. Normally that would be a death sentence at a tiny track like Bristol, but the tater knew he was the carbohydrate to beat.
It didn't take long after the drop of the green flag before the tuber was roaring through traffic toward the front.
The crowd leapt to their feet to cheer on the starchy underdog as he soared beneath the cars of the competition in his quest for the lead.
Spud would not disappoint the capacity crowd as he eventually grabbed the lead and with it, the checkered flag. The tuber celebrated his hard-won victory with a signature burnout and a Polish victory lap.