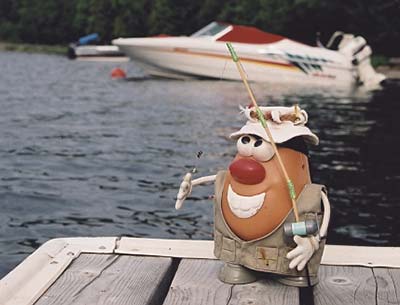 Spud visits Cottage Country
As a token of appreciation for Spud's assistance during the massive blackout of 2003, the Independent Electricity Market Operator awarded him with a week long vacation in Ontario's beautiful Cottage Country.
Having never been to the forested lakes and rocky shores before and with summer rapidly drawing to a close, Spud hastily packed his car up and headed north.
Once he arrived at his palatial cottage located in the heart of the Canadian Shield, the potato marvelled at the beauty of the rugged land. The Canadian Shield was the first part of North America to be permanently elevated above sea level. The area is riddled with lakes that are framed by erratic Archaean-age rocky shorelines and forests of towering, wind blown pines interspersed with a spectral palette of maples. Its little wonder why the area is so popular for outdoor enthusiasts.
Eager to begin his own outdoor adventure, Spud grabbed his rod and reel and headed for the dock.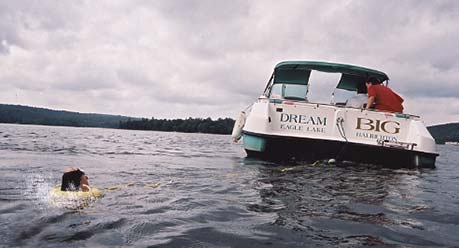 Northern Canada is renowned for its sportfishing; so much so that each year, anglers from all corners of the globe descend on its Cobalt blue waters in search of its elusive scaly finned treasures. These rod wielding warriors mount their aluminum water-steeds and ride down the arteries of the Canadian wilderness. After days of battle, most emerge empty handed; the only bites they got coming from the helicopter-sized black flies that permeate the area.
Spud is not like other fishermen. When he has his mind set on getting a fish, he'll usually have one within minutes. Of course, it certainly helps that the supermarket is just down the street from his house.
Another cottage tradition the tater wanted to indulge in was tubing. He had seen the locals roaring across the lake on their boogie boards and inner tubes and he became enthralled by the speed.
The 'tato went to the local hardware store and picked up a tube, but found the one thing missing was a tow boat. Fortunately for Spud, there were countless other cottagers up at the lake, many with boats. It wasn't long before a fellow vacationer appeared and offered to give the side dish a run across the lake.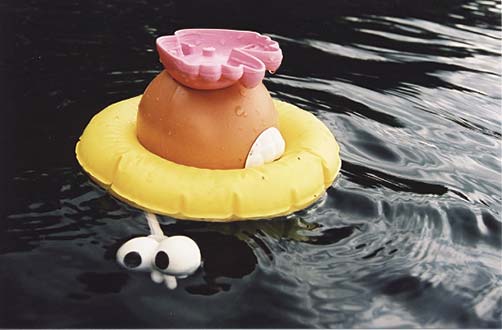 The man tossed the tow rope to the tater and then sat behind the wheel of his 22 foot long, 150 horsepower watercraft. Once the rope was stretched out, the man punched the throttle and a buried the lever into the floor boards.
The boat roared to life and screamed down the lake with such ferocity that the tuber's arms were ripped clear out of their sockets. Since Spud had left his spare set at home, this put a quick end to his free vacation.