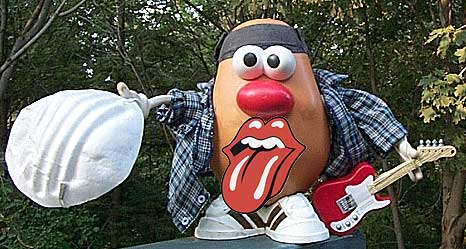 In April of 2003, the World Health Organization (WHO) diagnosed Spud as having SARS-like (Severe Acute Respiratory Syndrome) symptoms. Since the tater is an intrepid traveler, the WHO put Spud into indefinite quarantine to prevent the tuber from potentially passing on the dangerous disease unknowingly. Well finally, after a number of months cooped up in the house and having to breathe through a surgical mask, Spud's SARS quarantine was finally lifted; once again allowing the tater to get out and continue his travels around the globe!
Upon hearing the news of Spud's 'release', Mick Jagger and the Rolling Stones decided to cancel the rest of their European tour to fly to Toronto and pay tribute to the side dish with a concert. As word got out, more and more bands wanted to pay homage to the tato and signed up to play. Soon the bill included top name acts including RUSH, ACDC, the Guess Who and a host of others, which formed a 12 hour tribute and party for the traveling tater.
The bands donated their time, but tickets were sold for the event to help replenish Spud's insane travel budget.

On Wednesday July 30th, a mammoth crowd of 460,000 + people from all over the world came to Toronto, Canada to celebrate Spud's return to the world stage. The show itself was a rousing success.

Spud's pals at the Alberta Beef Commission made a special trip to the event and brought some of their finest stock to share with the crowd. Hearing that their would be prime beef on hand, a large congregation of potatoes from Prince Edward Island hopped aboard a truck to join their beefy brethren and see their idol: Spud.
The potato's massive following each took their turn to sign a huge wall of well wishes and congratulatory notes welcoming back the tater. One by one, the bands took to the gargantuan stage and performed much to the delight of Spud and the crowd.
The final performance of the night belonged to the Rolling Stones. Having taken their afternnon naps and half their bottles of Geritol, the boys rushed out on stage not looking a day over 60. The Stones gave an energetic performance up until Jumpin' Jack Flash, when Keith Richards' oxygen tank ran dry and he keeled over in the middle of the solo. Fortunately, Spud had brought his Fender Stratocaster and leaped on stage to finish off the show.