NORTH CAROLINA
While traveling to a stock car race in the southern U.S. of A., Spud visited the state of North Carolina. This state holds an honoured place in history as being the birthplace of aviation, as Orville & Wilbur (who would name their kid that?) Wright made the first successful powered flight near the town of Kitty Hawk in 1903.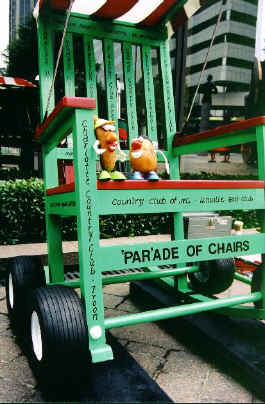 In fact, North Carolina has many claims to fame: Krispy Kreme doughnuts were started here (much to the delight of dentists & the Weight Watchers corporation), Pepsi-cola was invented here in 1898 (amazing how it has survived so long without having Britney Spears as its spokesperson) and the state is also known as the Furniture Capital of the World; possibly for it's prolific production of bean bag chairs.
Trying to capitalize on this bestowment, the North Carolina towns of Charlotte and Hickory showcased some of their handiwork by holding an outdoor art event called 'Chairs on Parade'. This event was modeled after a number of other similar art shows held in various cities in North America over the past few years that featured everything from cows to corncobs and pigs to potatoes (my personal favourite).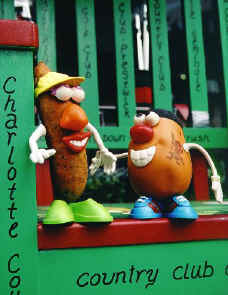 Spud took time out to visit Charlotte's collection where they featured rocking chairs painted up and adorned with all kinds of thematic designs. While admiring a colourful rocker painted to look like a golf cart, Spud caught the eye of a sexy local doing the same. Spud had heard talk about the sweet potatoes in the area and after seeing this specimen, decided all the hype was certainly true. She was a tall, trim little number and had smooth, exotic looking skin. Wiping a bit of drool from his lips, the tater wasted no time in rushing over and introducing himself.
The two carbohydrates were immediately taken with one another. Spud found her southern drawl entrancing as she agreed to spend the day looking at the chairs together.
As the smitten couple wandered along Charlotte's downtown streets, they came across chairs of all styles. There were some in the shape of a house and a dinosaur, one that had headlights and bumpers like a car, even one that had been painted in a jungle scene. All the time the two were on the walking tour, whenever Spud would glance at his stunning companion, improper thoughts raced through his mind.
So lost in his thoughts was he, that the tuber didn't notice the yam climb onto a three legged chair with straps & wires. With his head clouded in daydreams, Spud tripped over a cord that was unplugged beneath the chair. Being the good Samaritan that he is, the potato plugged the cord back into the outlet and was rewarded with a loud

and a plume of black smoke.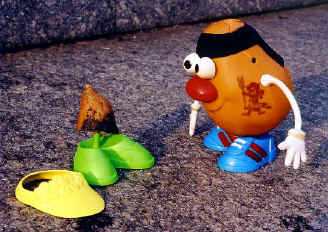 To his horror, Spud looked up and saw the remains of his sweet potato, charred beyond recognition. Turns out the cord was attached to "Old Sparky", the Florida state correctional facility electric chair that was retired from active use in early 1999. That is, until Spud did his good deed.