ARUBA
Fed up with shoveling snow and the biting cold winds of the Canadian winter, Spud seized an opportunity to escape to the Caribbean by masquerading as a latke on an airline's kosher meal tray.
It was the tuber's first time to the Dutch island of Aruba, but not his first to the warm waters of the Caribbean. Eager to explore the tiny 70 square mile island, Spud wasted no time and headed straight into the town of Oranjestad to pick up a guidebook to all the attractions.
He was a little distraught to find the book was only a few pages in length.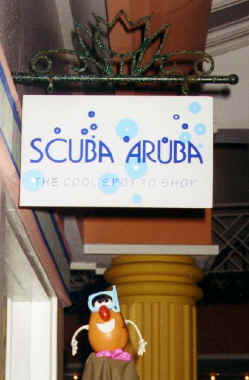 The tuber learned that the island's big claim to fame was their large concentration of divi divi trees. The foliage is easily identified by it's peculiar habit of growing sideways. This strange trait has puzzled botanists for years, but Spud may have a theory after noticing some of the locals watering the trees with Black Seal Caribbean Rum.
While the attractions in the Guidebook were far from thrilling, Spud knew that the turquoise waters of the Caribbean Sea are unparalleled for scuba diving. Unfortunately, the tater did not bring his scuba gear, so he had to go back into town to try to rent some. Fortunately, he discovered a tiny shop that offered full equipment rentals
The woman behind the counter of the shop obviously woke up on the wrong side of the bed that morning for she seemed quite offended when asked if she had a mask and tank to fit a potato. After about an hour of surly service, Spud finally emerged; fully outfitted and ready to dive.
Checking his Guidebook, Spud noticed one particular dive site that appeared to be teeming with sea life. Chartering a catamaran, the tuber set sail for the locale and plunged into the depths.
While the site had a beautiful coral reef, there was very little sea life to be had. In fact, the largest thing he saw was a barracuda, and she was in the shop where he rented the gear.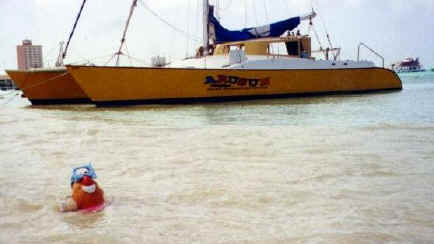 Shortly after emerging from the water, Spud's catamaran was boarded by Dutch Immigration who demanded to see the tuber's entry papers. As he had stowed away on his journey to Aruba, the only papers he had was of the 'two ply' nature. Spud's short adventure in Aruba had come to an end.