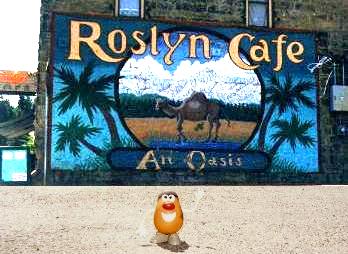 Spud gets a little
'Northern Exposure'
Just down the road from the TV town of Twin Peaks, Washington, Spud stumbled upon the tiny mining town of Cicely, Alaska. That's correct, an Alaskan town located in the middle of Washington state. This locale was used for the filming of the highly successful and equally quirky TV show 'Northern Exposure' during it's run in the '90's.
After the first two seasons of shooting the series up in the wilds of Alaska, the producers succumbed to the complaining of the cast members and moved the entire town to the much warmer state of Washington. No cost was spared as they brought everything from the sewage system to the gravel roads. Ahh, the lengths Hollywood will go to pacify actors...
After grabbing a quick beer at 'The Brick', Spud was back on the road again; this time to Mount St. Helens - the site of one of the most devastating volcanic eruptions in North American history. While it had been 20 years since the famous lady blew her top, the area around the volcano still shows the scars of it's rampage. Spud traveled to Windy ridge to see the mountain as it was in the process of rebuilding it's cone.
After roasting marshmallows over its lava dome for a few hours, Spud hopped back in his car in time to hit the gift shop of the nearby visitor center. His credit card was working overtime as he stocked up on mementos. His favourites being the BEFORE and AFTER salt & pepper shakers and the glazed ash toothbrush holder.