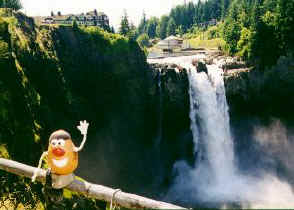 Washington's TV Towns
While Spud was in Washington state for his first summit attempt on Mount Rainier, he couldn't resist the opportunity to visit it's famous TV Towns.
First stop on the trip was Snoqualmie Falls or as it was once known: Twin Peaks. Spud had always been enthralled by the quirky David Lynch drama and was a loyal follower of the Log Lady.
Eager to meet his heroine, he stopped by many of the places in the area looking for clues to her whereabouts. Big Ed's Gas Farm, The Great Northern Lodge, The Packard Sawmill and even the Sheriff Station. The only trace he found was a pile of 'official log lady logs' shrouded in dust at the post office.
Somewhat disenchanted, he sought refuge at the Mar T Cafe (formerly the Double R Diner) where he ordered up a serving of their world famous cherry pie and a hot cup of 'jo'.
As Spud was enjoying his pastry, he admired the photos which plastered the cafe's walls. They recounted the heydays of the TV show and the small town's 15 minutes of fame. All of the big stars were there - their faces flattened behind fingerprinted glass frames. Agent Cooper, the Sheriiff, Audrey Horne, Leland Palmer and yes, even the Log Lady herself. Spud lit a candle and placed it beneath her likeness.
Once Spud finished his tasty treat, he asked at the cash counter where he could go to pick up some souvenirs. To the tater's dismay, he was told that the gift shop had long since disappeared. The only thing they had left was a noiseless curtain rod. Hoping for a black light poster of the Log Lady, he sadly left Twin Peaks.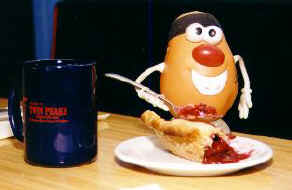 Next stop: Cicely, Alaska err. Roslyn, Washington from the television show Northern Exposure.