Spud's Story (and he's stickin' to it)

Spud Potato Head stumbled into Calgary, Alberta, Canada on July 21st, 1985. Having no identification and wandering the streets, he was soon picked up by the local authorities and jailed for vagrancy. He was released shortly thereafter when diagnosed with amnesia.
Counseling began and Spud spoke of intense nightmares where he was tortured by evil giants that knocked his teeth out and pulled his ears off. Although never fully recovering from his blackened past, Spud was able to start life anew in the humble mountain hamlet of Calgary.

Over the next three years, he worked as a mantelpiece and managed to save enough money to purchase a Ferrari Tuberrossa in which to tour around and see the sites.
The travel bug quickly caught up with Spud and he decided to venture on a four month tour of the United Kingdom in 1989. On that trip he managed to take in the sites in London and the rest of the English countryside, as well as the highlands of Scotland and the rolling hills of Wales. The experiences and culture that Spud encountered were overwhelming.
Spud returned to Calgary and told countless tales of his exploration and whimsy to his tuber friends. Unfortunately, his adventures fell on deaf ears as his compatriots were merely garden vegetables. Feeling somewhat misunderstood, he packed his bags once again for his next conquest; the Desert Playground of Las Vegas and the American Southwest
Spud was involved in an automobile accident during that trip and suffered severe skull trauma and the loss of both ears. A year and a half and countless surgeries later, doctors ruled Spud would be a vegetable for the rest of his life.
In August of 1992 however, the call of the North beckoned Spud and he disregarded doctor's orders to stay in bed and instead packed his bags and traveled up the Inside Passage to the land of the Glaciers.
The heat of the summer coupled with the extreme cool of the glacial ice proved to be a dangerous mix for Spud and he collapsed into a crevasse. Fortunately, he was airlifted to safety and transported back to Calgary where he was treated for hypothermia. Spud heeded the doctor's warning this time and swallowed the bitter pill of bed rest for the next year so he could fully recover from his ailments.
The lure of the snow and ice churned inside Spud all during this time of inactivity. He read book after book on ice climbing and mountaineering to prepare himself for his next adventure, when he would attempt to climb Mount Athabasca in the Columbia Icefield of Jasper National Park. The expedition would not be easy as intense training and special equipment were required. Spud found many challenges simply in trying to collect all of the required gear. Who would have thought that crampons had to be specially made to fit a Potato Head's shoes?
On June 24th of 1994, his dreams were realized as he reached the 3491 metre summit
.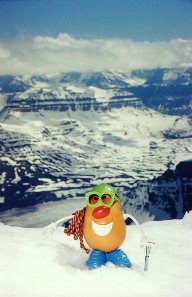 The immense challenge of scaling this peak set a fire ablaze in Spud's hollow body for new and exciting adventures further from home. With this new found curiosity in mind, he packed up all of his belongings and facial expressions into his Ferrari and set off across Canada to Toronto, Ontario in August of that same year. The cost of the move swallowed up a great deal of Spud's savings.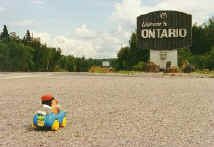 In order to restore his vacation fund, he worked as a model for a baked potato vending cart on Yonge Street. Although the money was good, Spud hated the idea of being exploited. In June of 1995, he quit when asked to wear sour cream and bacon bits.
Spud was quick to find a new gig; this time as the ring bearer for a friend's wedding back in the mountains of Banff, Alberta. In payment, the friends invited Spud to join them on their honeymoon which took him to California, Arizona, New Mexico, Pennsylvania, Texas and Juarez, Mexico.
Upon his return from this whirlwind excursion, Spud ran into a problem with customs officers at the border. Not believing that Spud was well under his spending limit for souvenirs, he was subjected to a full cavity search. The agent was shocked to discover an extra set of eyes and a tongue on Spud and quickly took him into custody. Only after a 3 hour discussion with Spud's lawyer and the customs officer on the concept of the Mr. Potato Head was he released on his own recognizance. A bit frazzled from the experience, Spud put travel out of his mind indefinitely.